A Little Background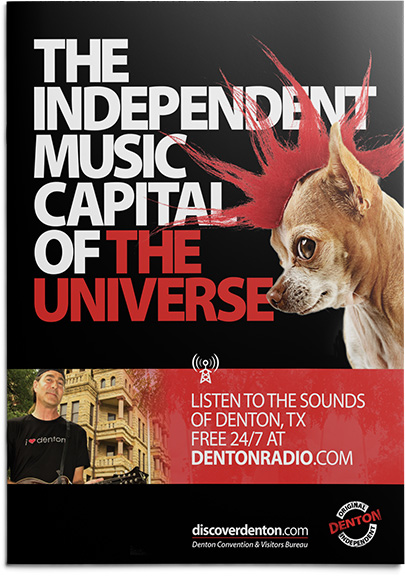 If you've never been, Denton, Texas is a city you need to experience. Just a short drive north of Dallas, Denton carries a personality that is truly its own and unique among the urban sprawl surrounding major metropolitan areas throughout the U.S.
If you have been, then you know, Denton is a creative town — a place where original, independent thinking is encouraged, where going against the norm is more expected than following the herd.
On top of that, it's just simply a fun place to be. Looking for entertainment? Year-round festivals. The North Texas Horse Country Tours. An unmatched creative, intelligent community influenced by two major universities. More than 25 live music venues within walking distance of the historic Courthouse Square, and a vibrant downtown entertainment district with more Mom & Pop shops and homegrown originality than chain retailers and restaurants.
The Bottom Line
The bottom line — and simplest reason any Convention & Visitors Bureau (CVB) or Destination Marketing Organization (DMO) exists — is to bring tourism dollars into the area. While the marketing activities vary from area to area as budgets, resources and time allows, the success or failure of all CVB marketing efforts is measured by the economic impact of non-residents coming into the area – hotel occupancy, revenue and taxes, and retail travel-related purchases (dining and shopping) by new visitors.
For Denton, this is viewed month-over-month and year-over-year through Smith Travel Research (STR) reports, which provide statistics on hotel occupancy percentages for the area, average daily hotel rates, revenue provided per available room (RevPAR), and overall hotel revenue.
How our Partnership Evolved and Drove Bottom-Line Increases
2011
Our relationship with Denton CVB started in August 2011 with a single marketing campaign.
Every October tens of thousands of college football fans travel to Dallas for the annual Red River Shootout between the University of Texas and the University of Oklahoma. And, Denton is perfectly positioned along I35 North, the major highway connecting Norman, OK to Dallas, TX, forcing all Oklahoma Sooners' road traffic to drive past and through Denton on their way to the Cotton Bowl in downtown Dallas. So, why not encourage them to make a pit stop? Jump off the highway, enjoy food, drink, live music and entertainment in college-town friendly Denton and stay the night in an affordable hotel. So, that's exactly what we did.
Creative campaign designating Denton as "Oklahoma HQ" for the two nights preceding the Red River Shootout.
Itineraries for Thursday night and Friday night pre-game activitiesGameday itineraries and public transportation schedules to get fans to the Cotton Bowl via the A-train or to find local watch parties in the Denton area
Single online landing page to create reservations, ask questions and provide trip-planning solutionsWelcome packages distributed through hotels for guests for the weekend including TX/OU lanyards, Denton maps, weekend itineraries and travel schedule reminders
Marketing campaign promotions, including heavy social media campaigning, a PR blitz and resulting coverage locally and regionally through TV, radio and print publications, guerilla marketing at the University of Oklahoma campus with flyer distribution, coop marketing partners and campus sidewalk graffiti art
2012
In 2012, we took a 60-day, drive-to-Denton destination marketing campaign and evolved that into a full creative campaign over the next year that created a new digital hub for Denton and a new, branded campaign that represented the unique Denton "on the ground" experience.
Escapetodenton.com web portal highlighting festivals and events, seasonal and year-long entertainment activies and travel solutions
Created goal-oriented Marketing Plan for 2012 outlining objectives, strategies, tactics and hard metricsSocial media strategy, management and content creation
Managed a participative co-op structure that improved facilitation by CVB staff and improved metrics available to all parties after the fact – downtown associations, event planners and organizers, and major attractionsAdditional marketing campaigns ran throughout the year for the CVB specifically, including Rand McNally's "Best of the Road" promotional campaign
Standardized in-house reporting on digital marketing statistics, campaign performance and metric-driven successes and trends
The introduction and launch of Denton's "Original. Independent." campaign
2013
The next year, 2013, we collectively built on opportunities and insights learned from our first year AOR performance and took a definitively more digital approach and wider campaign rollout — a version 2.0 of the successes brought in 2012.
A completely revised, revamped and redesigned main website launched for the CVB, DiscoverDenton.com
Created goal-oriented Marketing Plan for 2013 outlining objectives, strategies, tactics and hard metricsSocial media strategy, management and content creation
Refined in-house reporting on digital marketing statistics, campaign performance and metric-driven successes and trendsThe creation and introduction of a formalized Coop Marketing program that married CVB goals with 12 primary stakeholders' goals (for example, the Main Street Association, Meeting and Event Planners, Denton's Campus Theatre, Firefighter Museum, Thin Line Film Festival, Arts & Jazz Festival)
2014
In 2014, entering the third year of this partnership, the CVB was able to take more of the day-to-day marketing tasks in-house by hiring more staff and delegating internal responsibilities to new team members like social media management and content creation. By providing the CVB with more knowledge and know-how to execute what had traditionally been handled by our agency team, we continued to evolve our marketing partnership into new opportunities.
What started more than three years ago as a single marketing campaign designed to bring in additional tourists and tourism dollars has grown into a long-term, strategic partnership that allows Aria to truly be an extension of Denton CVB's in-house marketing team.
This collaborative approach, and trust built over multiple years of partnering, has allowed knowledge to be shared and imparted from both sides, utilizing each team's best assets and resources to maximize dollars and efforts and return some of Denton CVB's most successful and profitable years.
So, How'd It Go?
To sum up, all we really need to do is present the bottom-line statistics that can be used to evaluate the success or failure of most CVB and DMO activities. These pretty much speak for themselves.
You hear us say that results are all that matter. For us and Denton, Texas, we're seeing continued growth in the key engagement areas we focus on. All-in-all, we'd say this has been a pretty successful ride.
… and it's just begun.
Q2 2014 over Q2 2013 Hotel Occupancy Tax rise 18%
2013/2012 Hotel Occupancy Tax rise 7%
2012/2011 Hotel Occupancy Tax rise 9.9%
2013 Year End Totals RevPAR highest in five years
Occupancy highest in five years
2014 2nd Quarter Totals Occupancy, RevPAR, ADR highest in the recent history of tracking (7 years)
2014 2nd Quarter Regional Denton equal to or beating its entire competitive set at 73% average occupancy